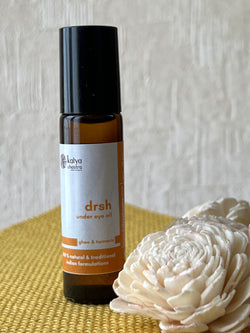 drsh - under eye oil made from ghee and turmeric
drsh - under eye oil. hand made from ghee & turmeric
Reduces wrinkes & darkness around the eyes
ingredients: ghee, oils of aloe, cucumber, pomegranate, almond, turmeric and rose
usage: you just need roll on the oil under eyes for every use. this package will come for atleast 2 months when you use twice everyday.
always be gentle while applying eye products. why? so that the most gentle pressure is applied in that area while massaging. ok, now, roll on drsh oil  & apply gently under eye

pl avoid using too much of this product around the eyes. you will not need it.
this under eye oil is gentle but super effective in reducing fine lines, wrinkle, crow feet, darkness, dark circles.
like all our products, even this is an all-rounder. this can be used even on the nose area to remove the dark patches. yes, it'll also help in fading pigmentation on the cheek areas.
qty - 10ml 
roll on bottle
Hydrating
Helps with nourishing the under eye
Hydrating
Helps with nourishing the under eye
Hydrating
Helps with nourishing the under eye